Abdominoplasty
Abdominoplasty is plastic surgery of the abdomen and the navel, performed in order to reduce the excess fat in the area of the abdomen.
Excess skin and fat in the abdominal area is a problem affecting even for slim people, that is becoming more acute with age.
The impression of loose or projecting abdomen is caused by excess skin and fat after giving birth or sudden weight loss, striae reminiscent of scarring occurs on the aging skin.
It is more than just an aesthetical problem, since a "sagging" belly is damaging the spine and pelvic organs, and the strained muscles do not perform their protective function for the internal organs.
Procedure of surgery
Excess skin and fat is removed during abdominal wall correction, the body lines gain an attractive contour, the navel is returned into its normal position, the abdominal muscles are lifted.
Although abdominoplasty is a fairly complicated procedure, it is completely safe and does not hinder the natural functions of the body.
Abdominoplasty is performed under general anaesthesia
The duration of operation is 2–4 hours
Before and after abdominoplasty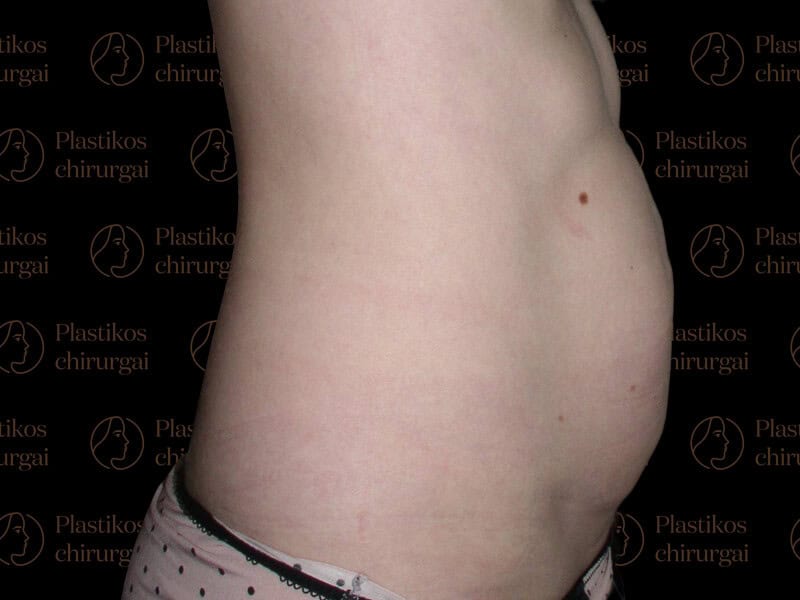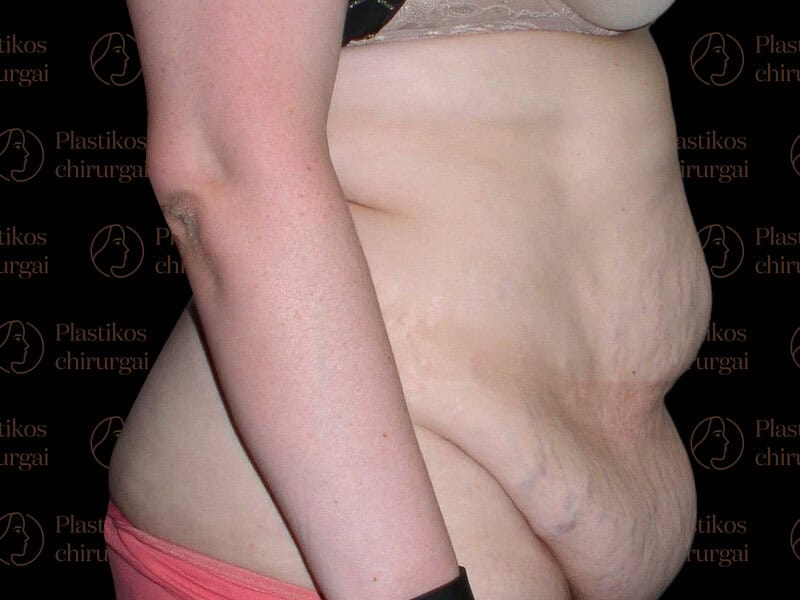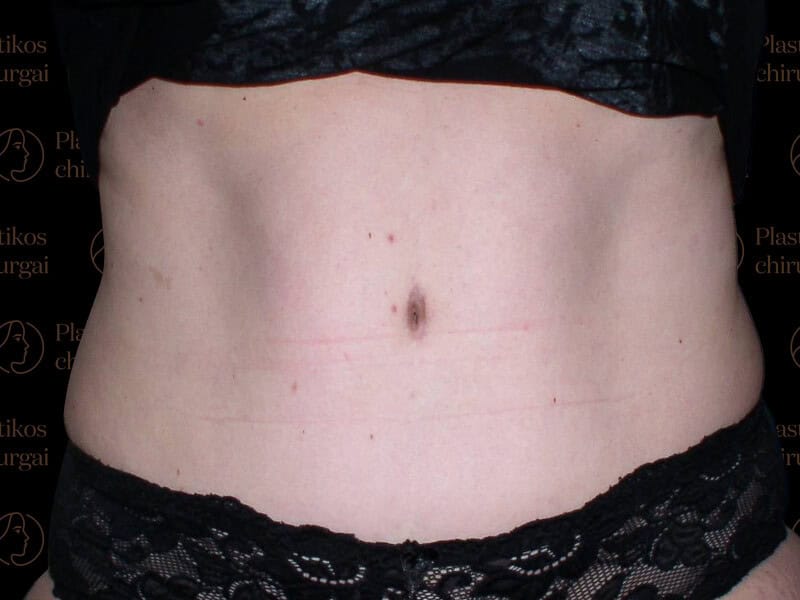 After the operation
Swelling will be visible around the surgical intervention sites on the first days. For some time, pain could be felt in the abdominal muscles, which is usually relieved with medication. General recommendations after surgery:
Stay in the clinic for up to 2 days after surgery
It is possible to return to work in 1–2 weeks, wearing a special corset
Physical exercises should be avoided for at least 4 weeks
The location of incision should be protected from exposure to hygiene products for some time
The result
The final result, such as a flat belly and its smooth skin, could appear only in 4 months. A horizontal scar remains at the bikini line after the operation, which can be hidden under the underwear; there is also a faint mark around the navel.
This procedure will not interfere with carrying another baby. Also, abdominoplasty performed after childbirth helps hide defects, which have emerged or become more vivid.
Striae are removed if there is a surplus of skin. It is also possible to perform removal of excess fat from the lower pelvis alone.
According to plastic surgeon Vytautas Jankūnas, abdominal hernia surgery can also be performed combined with this procedure. C-section scars on the abdomen of a woman can also be partially hidden.
When planning surgery, it is advisable to put off plans of pregnancy in the near future (for approximately 12 months), as well as follow the changes in body weight more closely.
If You have any questions of would like to meet plastic surgeon dr. Vytautas Jankūnas, sign up for an appointment.
Prices of plastic surgery of the abdominal wall:
Correction of the abdominal wall following C-section
2,290 € (from 191 / month)
Correction of the abdominal wall (abdominoplasty)
2,590 € (from 216 / month)
* The price includes necessary medical items, pre-and post-surgery care.